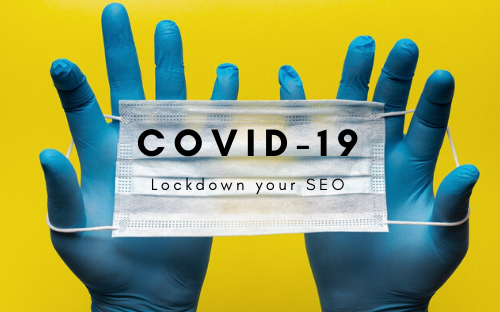 We are living in crazy and unpredictable times but there are two things that we can be sure about. The fact that COVID-19 is temporary and in the grand scheme of things it's short-term, the second is that keeping your foot on the gas now will only leave you in a better position once the pandemic has passed in terms of SEO. After all, businesses will get back to normal and you need to be in a prime position to hit the ground running on the other side of the pandemic.
Always Look On The Bright Side of SEO…
Shopping from home and browsing the internet is at its peak. Many are self-isolating and digital content is exploding at present.
The future is, and will be, online marketing. The period we are in is a glimpse into our future. More people working from home, with technology still coming on leaps and bounds to bring VR reality into our life without the need to leave the house for an immersive shopping experience. Take a look at Amazon now, one of the worlds biggest enterprises. They certainly aren't freezing up, in fact they have just opened up 100,000 new jobs to deal with the surge of online activity.
The competition might be thinner during the pandemic as many are weary and hesitant to act, trying their best to cut their costs. This is a great time to take advantage of that and gain a competitive edge not just for now but also when things turn back to reality and a natural uptake across all industries sets in.
What Should I Do About SEO During Lockdown?
We are in a time of panic as businesses across the country adopt new ways to cope with the lockdown, and it's easy to stop a service that you are paying money for on a monthly basis. With SEO we NEED to look at the bigger picture because unlike PPC you can't just turn an SEO service off without having significant consequences down the line.
Our advice is that if you can sustain your SEO activity at this time then we highly recommend you do so.
Why Should I Keep SEO During Lockdown?
SEO takes time to build up and establish, in most cases this is months or even years. It's all about gaining that trust with Google, showing them that you are an authority in your specific sector. You will have spent money each month on getting your site ranking well for keywords, and in return capitalising on traffic and in term direct business enquiries.
If you stop SEO, then 3 or 4 months down the line your rankings will start to fall, and so will your traffic and your leads, impacting the work that has been done to get you where you are today.
Keeping a competitive edge, good momentum and stabilisation of your rankings at this important time is crucial. Once COVID-19 has passed you will not only be in a strong position, but there is a good chance you will be in an even better position due to competitors who chose to cease SEO work.
What Should I Do About PPC During Lockdown?
PPC is easy to switch on and off at the drop of a hat, you can simply pause and start with no consequences, other than immediate and controlled traffic losses aligned with the spend cut. So, we recommend that if your businesses are suffering during these difficult times then pausing PPC is a good and quick way to save money. However, if you are in an industry whereby your services are unaffected or adaptable, then there should be no change to your PPC strategy unless you notice any downturn in leads.
---
At USdigital we are ready to adapt to any situation that gets thrown at us, and it is that very proactive stance that allows us to see the benefits to implement into your digital strategy. We have been around nearly half a century and we are still here today.
We hope that you all stay safe and well, and should you need to discuss any concerns with us, please get in touch.
---