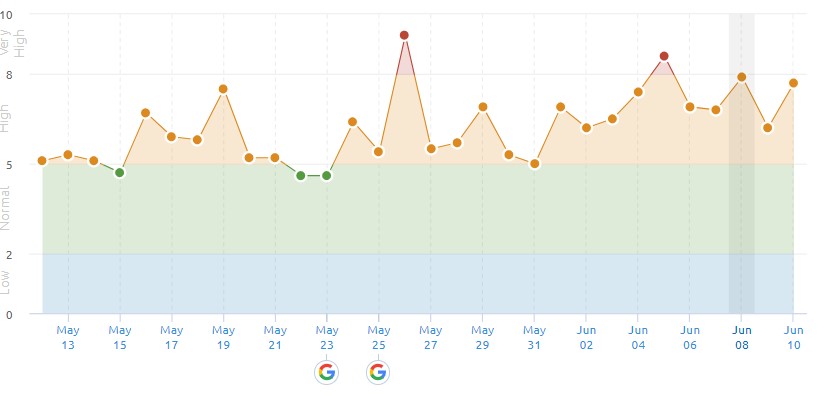 According to Semrush Sensor, it's been an intense month so far with the volatility above the medium on most days. The lowest volatility score it's had is 4.6 which is still quite high in comparison with the previous statistics. The highest it's reached is 9.3, right after the announced big Google algorithm update in May 2022.
For 8th June 2022, the scores for desktop (7.9/10) and mobile (7.2/10) viewports are still high. They are even slightly higher throughout Europe, including France, Germany and Spain. 
Such categories as People & Society, Autos & Vehicles, Beauty & Fitness, Books & Literature and Finance turned out to have the most unstable results.
Knowledge Panel stays the most frequently appearing SERP feature (37.16% + 0.41%), followed by Local Pack (13.04% -0.25%) and Top Stories (8.94% +0.75%). However, the Shopping results feature has improved its occurrence rate by 1.33% which is good news for eCommerce.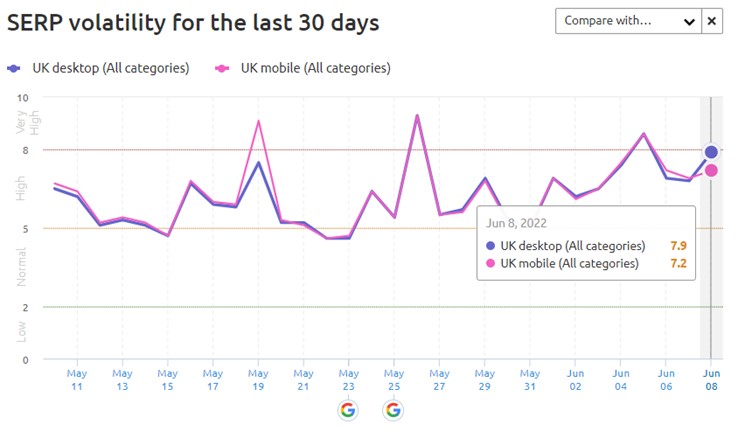 We observe plenty of tremors and instability in Google rankings since May 16, even though the official date of the first core broad update of the year was 25th May 2022. It has been rolling out for a few weeks now and yet it's not finished. 
In any case, it's worth keeping an eye on your own website's Google ranking to monitor its fluctuation and develop a new strategy for improvements. 
Google Broad Core Update May 2022. What Is It?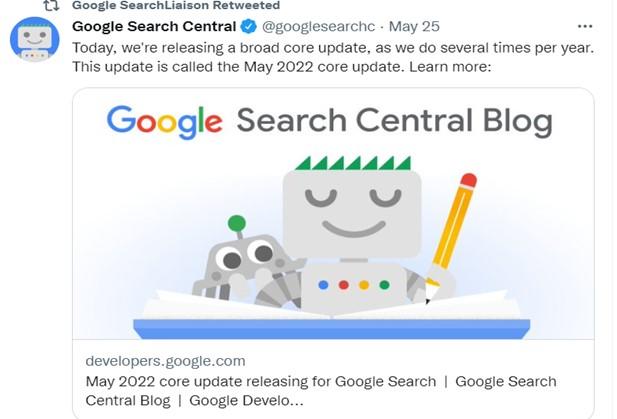 As mentioned earlier, Google announced a new broad core update in May. According to the description, it doesn't tackle any issue in particular but offers a general improvement to Google's overall ranking processes. Therefore it's been coming to make search results more relevant for users. 
Danny Sullivan, Google's Public Liaison for Search, mentioned that you can expect changes to site performance in search results.
"Core updates are changes we make to improve Search overall and keep pace with the changing nature of the web. While nothing in a core update is specific to any particular site, these updates may produce some noticeable changes to how sites perform…"
To summarise, the key aspects of Google updates are the following:
They're described as 'broad' as they don't target anything specific. It's an overall improvement.

Reassessment of pages against other web content can drop their ratings.

A lost rating doesn't mean penalisation. You should expect noticeable changes, such as spikes and drops in search rankings. The mission of the update is to prioritise great content. 

Broad core updates focus on building a new search results hierarchy, based on the quality of content.

They happen every few months for refreshing reviving purposes and to encourage improvements. However, it's not guaranteed these improvements will have delivered desirable results before the next update.
Is The New Google Broad Core Update Finished?
Yes and no. We have continuously observed plenty of turbulence caused by this Google update and yet it's not completed. There's been lots of chatter on SEO forums and social as everyone has been waiting for this update to come to the end.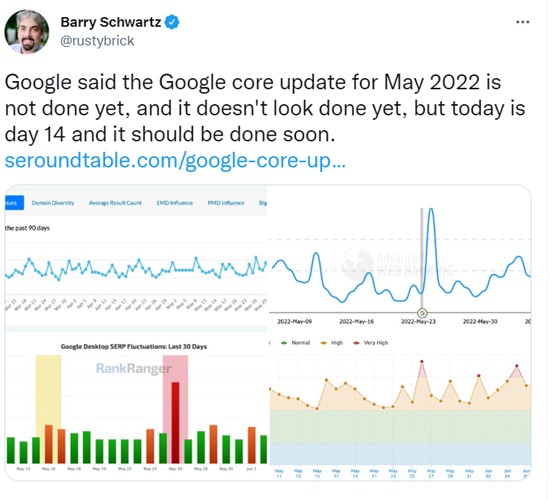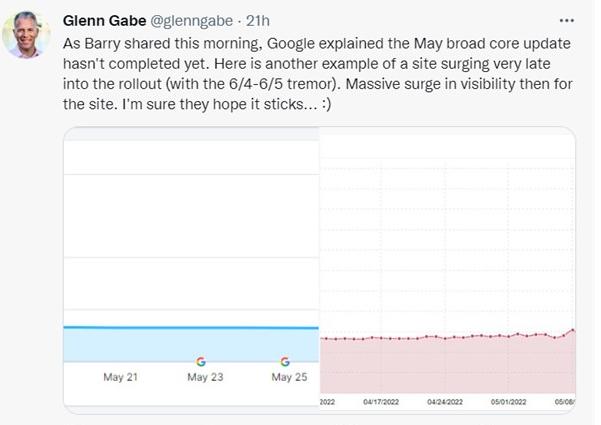 Google will confirm when the update is completed, we are sure that it's not long left until then. Yet if you have noticed a massive SEO impact on your website, don't rush to carry out your analysis. Wait for the dust to settle before taking the necessary action.
Update
Google confirms the core algorithm update is officially complete.