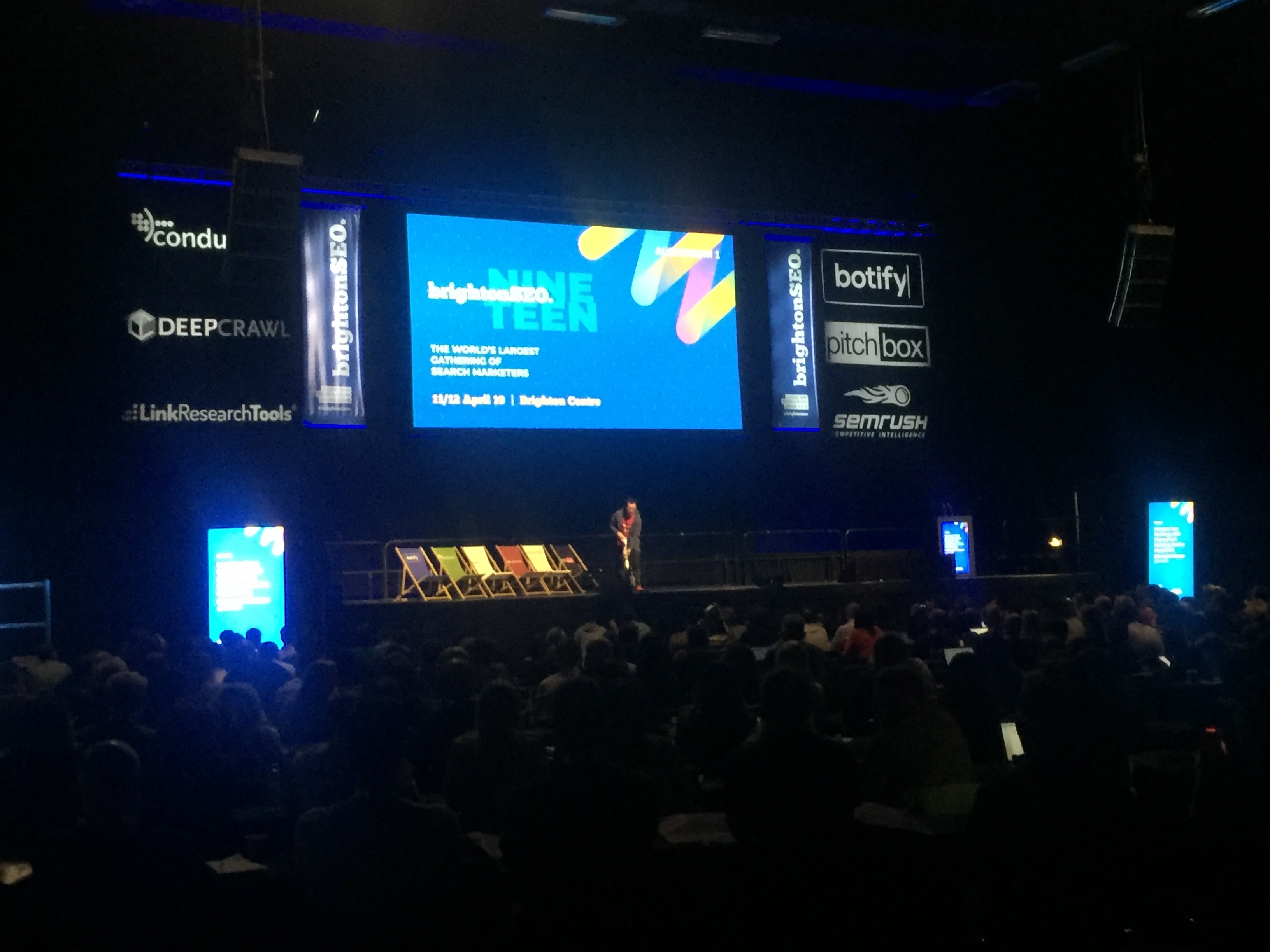 Brighton SEO is always a fantastic occasion and 2019 did not disappoint. With such a strong line-up of speakers and talks covering the whole span of digital marketing there certainly was plenty for everyone to enjoy! The digital team here at Unsworth Sudgen took a trip down to Brighton and below are a few observations we took away.

Content is still king
The importance of content marketing must never be underestimated. For a site to rank the onus is on webmasters to publish content that is high in E-A-T. These stand for Expertise, Authority and Trustworthiness. Publishing content that is trustworthy and authoritative allows content to effectively rank.
Closing content gaps allows for higher rankings. The sheer range of possible keyword combinations is absolutely massive and this highlights the necessity for thorough and effective keyword research. Razvan Gavrilas of CognitiveSEO highlighted to us the usefulness of keyword analysis, identifying content gaps and then filling these gaps by publishing content or optimising current content. He is a firm believer in constant, ongoing small changes contributing to big results.
Site Speed plays a huge roll in User Experience (UX)
We've all been there before. There is nothing more frustrating than clicking onto a site that takes an age to load. Considering Google takes into account various factors in their ranking algorithms such as bounce rate and site speed it is crucial our sites are as efficient as possible. Implementing changes such as effective image optimisation, reducing the amount of unnecessary bloating and reducing the number of needless plugins and widgets all help boost site speed.
Rachel Costello of DeepCrawl spoke of the importance of understanding your users. We must appreciate that every viewport is not the same, speed and specifications can vary across devices. If you want your site to rank then an effective campaign that encompasses all aspects of a site and its users must be implemented. Focusing on a variety of factors that includes site speed on all devices is crucial to be successful.
100% Lighthouse score today does not mean 100% tomorrow
Technology is constantly evolving and as such the speed and effectiveness of a site must evolve with this. What is defined as a perfect 100% score on lighthouse today can quite easily be 50% next week. Polly Pospelova of Delete gave an extremely interesting insight into effective ways we can all boost the speed of our sites. Implementing factors such as HTTP/2, loading only what you need and correctly optimising images all help to boost site speed.
Working closely with development teams allows implementation of performance fixes moving forward. Even the biggest brands struggle with lighthouse scores due to the ever evolving nature of the web. Constant evolution and optimisation on our end is a must.
Slim down sites and cut out unnecessary bloating
The increasing emphasis on site speed also highlights the sheer amount of unnecessary bloating often found on sites. Needless plugins, widgets, JavaScript and CCS bloat sites and slow them down. The internet is already under enormous strain and this is only going to make that worse.
Chris Simmance of Under2 gave an extremely interesting insight into needless bloating and strain sites are often under. Implementing various elements such as removing tracking code where possible, minimising and removing unnecessary code and prioritising above the fold content all boost site speed. He also spoke of fake minimalism. It is not uncommon for seemingly simple, one page sites to be extremely resource heavy. Sites that appear to only contain a header, footer and image can contain 1000s of lines of code, the majority of which are unnecessary. Cut out the needless content!
Never underestimate the importance and usefulness of sitemaps
Sitemaps are effectively a list of the URLs on a site. They allow us to communicate which URLs we would like to be indexed. It is worth noting that if we include a URL on a sitemap there is no guarantee that it will be crawled, it is a suggestion. They also have no impact upon site rankings. Fili Wiese spoke of his love for sitemaps and how we can take advantage of them to grow a site. We can signal which URLs are more important to a site and that these need to be crawled more frequently.
Brighton SEO 2019 – What We Learned
Brighton SEO 2019 did not disappoint. With so many fantastic speakers and talks there was plenty of content for everyone to enjoy. It's also great when you get to meet the one and only John Mueller! We hope to be back again in September!